As the leading importers and distributors for XP Metal Detectors in Southern Africa, we at Metal Detectors South Africa | MDSA™ are thrilled to announce a ground-breaking development in metal detection technology: the launch of XP's latest product, the XP XTREM Hunter Metal Detector, a 2-Box system. This exciting news places XP at the forefront of innovation, pushing boundaries in treasure hunting and archaeological prospecting.
The XP XTREM Hunter Metal Detector is a remarkable addition to XP's lineup, boasting cutting-edge features and capabilities that allow users to uncover deeply buried treasures with unprecedented accuracy. The detector uses 2Box deep seeking system based on the proprietary FMF® Technology, enabling it to reach extreme depths of up to 5 meters (17 feet). Additionally, it offers wireless convenience and ergonomic design, coupled with an unmatched 5-year warranty.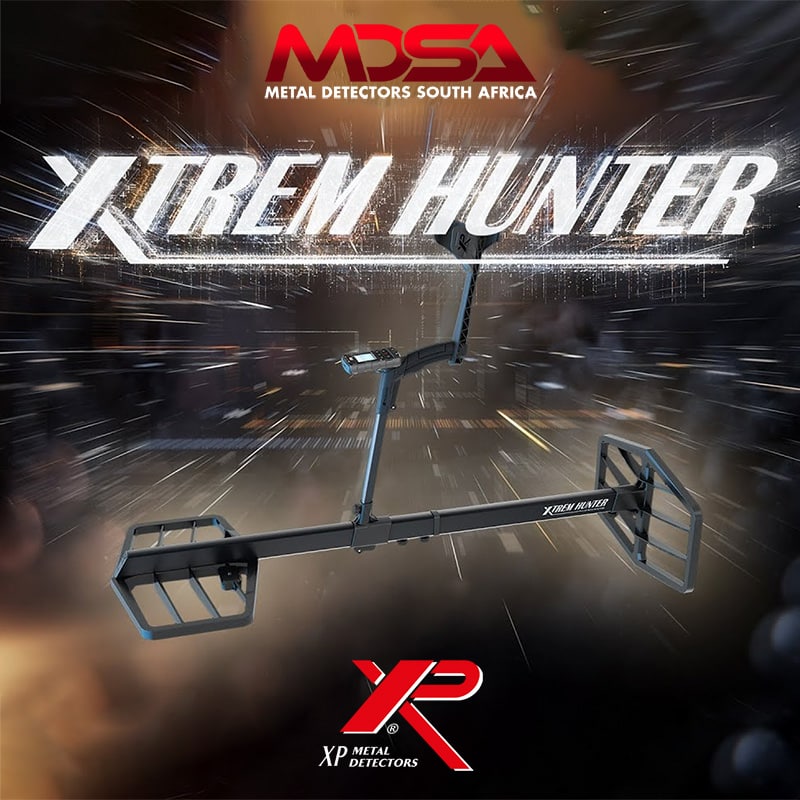 XP XTREM Hunter: A Deep Dive into Its Key Features
Unparalleled Depth: Built to penetrate up to 5 meters (17 feet), the XP XTREM Hunter stands out as a powerful machine for detecting deeply buried objects. Whether you're a seasoned prospector or a hobbyist, this detector empowers you to uncover treasures that were previously unreachable.
Discrimination: The XTREM Hunter is not just about depth; it's about precision. The detector comes with a discrimination feature, allowing users to distinguish between different types of metal, thus enhancing your detecting experience.
Wireless Convenience: As technology advances, so do our detectors. The XP XTREM Hunter offers a wireless operation, facilitating a seamless detecting experience free of cumbersome wires.
Ergonomics and Durability: This detector is designed with users' comfort in mind, offering an ergonomic design for easy handling. Additionally, its robust construction ensures it stands the test of time, backed by a 5-year warranty.
Compatibility with XP DEUS 2 Remote Control and Shaft: The XP XTREM Hunter is fully compatible with the XP DEUS 2 Remote Control and Shaft, delivering a more convenient and efficient detecting experience.
User Reviews: Early Impressions
Initial reactions from the detecting community have been overwhelmingly positive. User Cipher expresses enthusiasm for the new detector, particularly appreciating its "strength meter or spectrograph." Others echo these sentiments, with the Free American Spirit YouTube channel stating the XTREM Hunter "will bring cache hunting to a higher level." User jjack9977 foresees it being particularly popular for "Hoard Hunting in the UK."
Distinct Use Cases: XP DEUS 2 and XP Xtrem Hunter
The XP DEUS 2 and Xtrem Hunter are two metal detectors that offer distinct capabilities for different applications. The XP DEUS 2 features a traditional search coil, making it suitable for a wide range of metal detecting activities such as hunting for relics from the Anglo Boer War, beach detecting for lost gold jewellery, rings, coins, and other treasures. Its waterproof design up to 20m, simultaneous multi-frequency operation, and reputation as the best detector for beach, saltwater, and diving scenarios make it a versatile choice. On the other hand, the Xtrem Hunter utilizes the 2Box coil system, which is larger and specifically designed for deep target detection. While it can be used on land, including beaches, the XP XTREM Hunter Metal Detector is not suitable for underwater use due to its size. Its primary application is detecting very deep targets like buried treasures and hoards. As digging holes up to 5m deep may require significant resources and specialized intentions, the XP XTREM Hunter is typically preferred by users specifically seeking deep detection capabilities. Thus, while the XP DEUS 2 offers multi-use functionality, the XTREM Hunter serves a more specific purpose in deep target detection.
The XTREM Hunter: A Versatile Choice
XP offers the XTREM Hunter in three configurations to cater to a range of needs and budgets. The entry-level XTR-115 is priced at an estimated 1,599 Euro and offers the 2 Box Deep Seeker System without RC or Headphones. The XTR-115RCWSA2XL, priced at an estimate of 2,499 Euro, includes the DEUS 2 Remote Control and WSAII-XL Headphones. Lastly, the premium bundle offers a complete DEUS 2 and XTREM Hunter option. Actual prices may vary depending on each region and considering other factors such as taxes, transport, etc.
Get Ready to Go Deeper
The XP XTREM Hunter 2 Box Metal Detector is set to redefine the metal detecting landscape when it becomes available in September 2023. As the leading distributor of XP Metal Detectors in Southern Africa, MDSA is thrilled to bring you this state-of-the-art detector, opening up a whole new world of opportunities for our community of detectorists.
Stay tuned for more updates and get ready to go deeper than ever before with the new XP XTREM Hunter!