Metal detecting enthusiasts, rejoice! The next big thing in your treasure hunting journey has finally arrived. We are introducing the Nokta AccuPoint Pinpointer, a metal detecting accessory that promises not just precision but an experience like none other.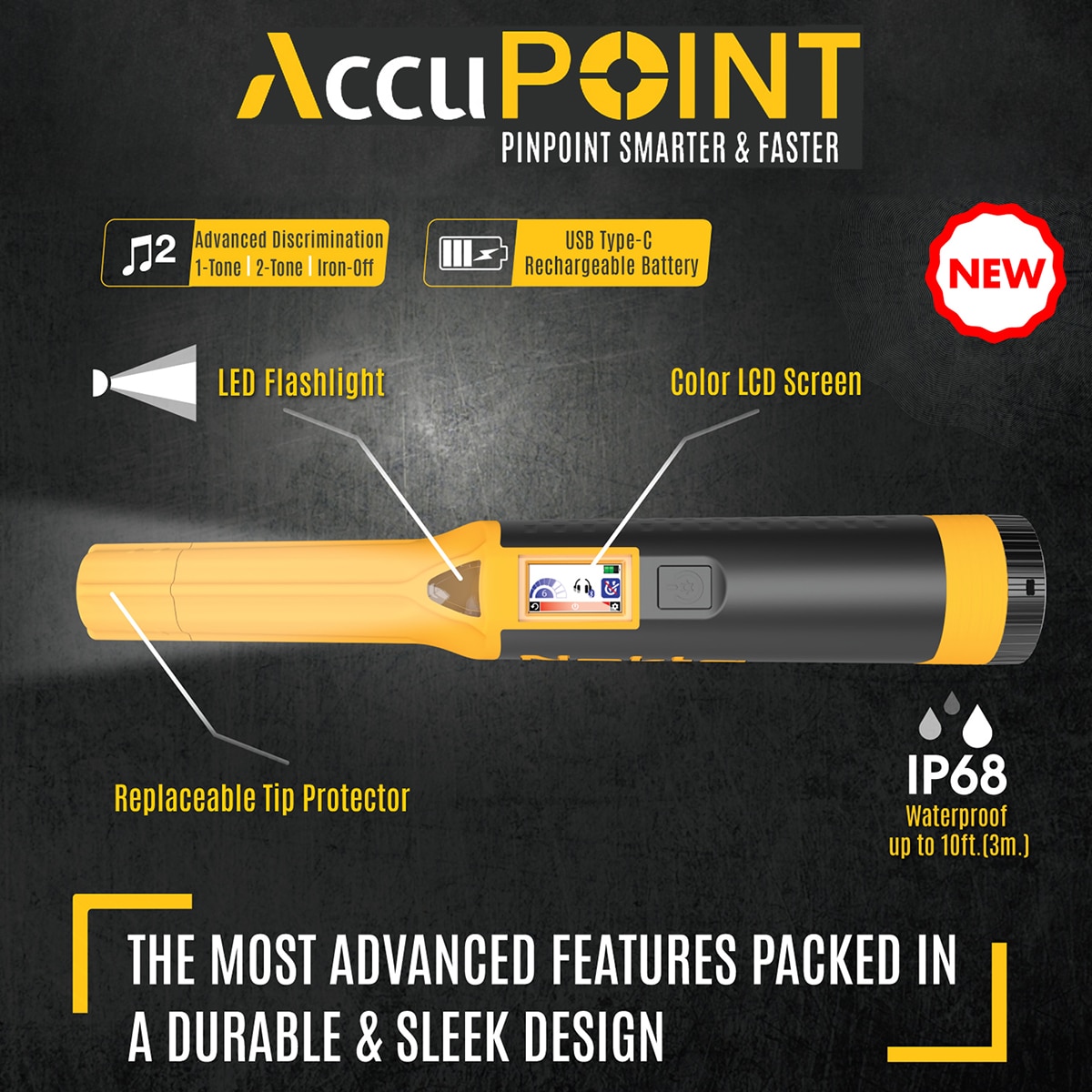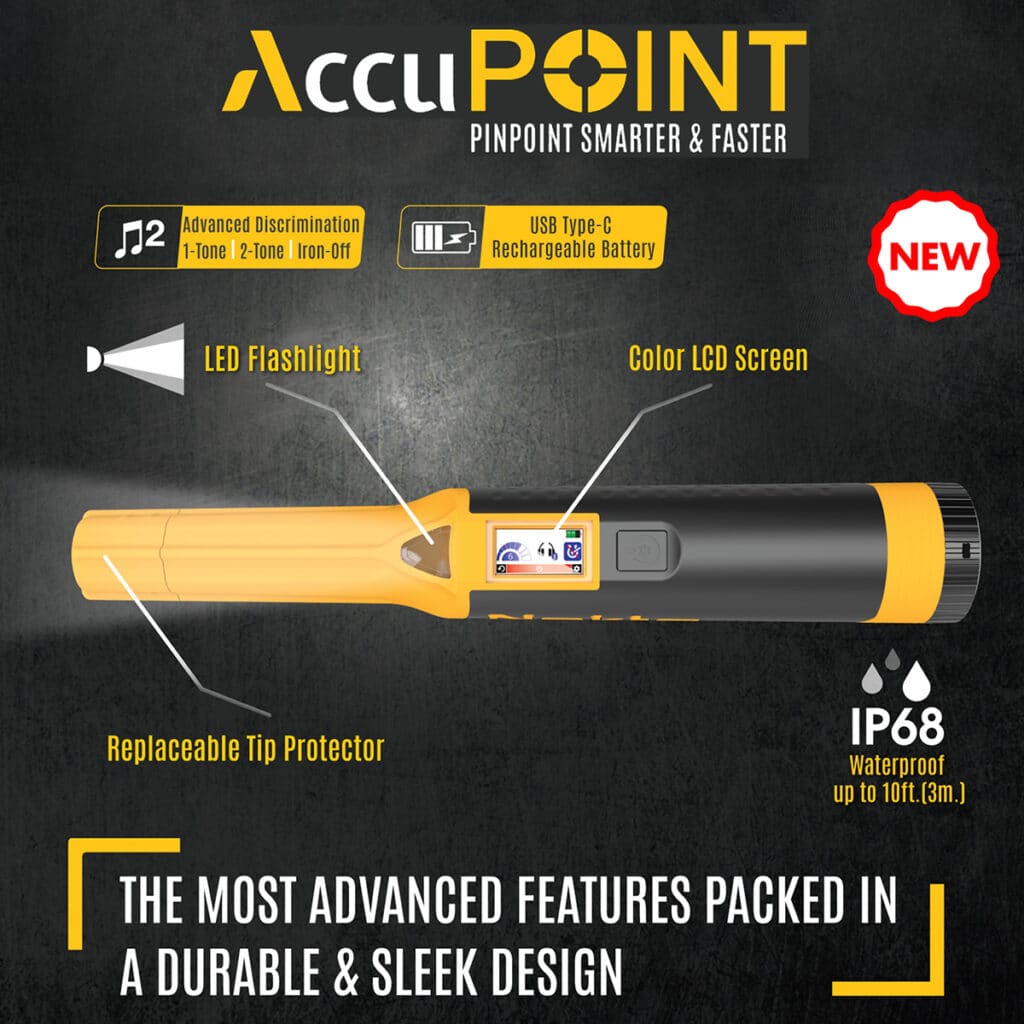 Why the Nokta AccuPoint Pinpointer Stands Out
With countless pinpointers on the market, what makes the Nokta AccuPoint the best pinpointer you can get your hands on?
Bluetooth/Wireless Connectivity: Whether you're using the Nokta Simplex BT, ULTRA, Legend SMF, or Score Metal Detector, this pinpointer effortlessly connects via Bluetooth. Imagine detecting on a windy beach; with the AccuPoint's Bluetooth feature, you can hear signals with clarity using Nokta's Bluetooth headphones. No more competing with ambient noise.
Target Discrimination: Depending on what you're hunting for, choose from three advanced tones. Looking for valuable non-iron metals? Opt for the single-tone mode. Searching broader or want to hear iron? The two-tone mode has you covered. And if you're not in the mood for finding iron, simply turn it off.
Progressive Audio Feedback and Vibration Mode: As you inch closer to your find, the AccuPoint gives increasing audio feedback. Prefer a quieter hunt? The vibration mode ensures you remain stealthy yet informed.
Mute & Multitask: With its integrated detector mute, your primary metal detector goes silent, ensuring undivided attention to the pinpointer's feedback. A game-changer for those who prefer focused detecting.
Depth Measured Right: Ever wondered how deep your find is? The built-in depth ruler on the AccuPoint answers that for you.
Specifications You'll Love
Aesthetic: Its vibrant yellow with contrasting black accents isn't just about looks; it ensures easy visibility.
In-Built Ruler for Depth Measurement: One of the AccuPoint's standout features is the ruler etched on its side. This thoughtful addition means you can accurately measure how deep your metal detector has discovered the targets, offering an extra layer of precision to your treasure hunting.
Waterproofing: Come rain or high water, with an IP68 rating, the AccuPoint is ready to dive up to 3 meters with you.
Charging: Leave the hassle of batteries. The USB Type-C rechargeable feature means longer detecting sessions.
Interactive Display: Its color LCD screen isn't just for show. It adds to user-friendliness, making settings and modes clear and easy to select.
Sensitivity at its Best: With adjustable sensitivity levels, miss no treasure.
Shedding Light on Hidden Treasures with AccuPoint's LED Feature
Yet another feature that sets the Nokta AccuPoint Pinpointer apart is its unparalleled LED light. But calling it just an LED light doesn't do it justice. Equipped with dual LEDs, it's powerfully bright and can even double up as a torch when you're out in low-light conditions.
It's clear that with AccuPoint, Nokta has meticulously thought of everything to elevate your metal detecting experience.
Game-Changing, Quite Literally
With the Nokta AccuPoint Pinpointer, what used to be a challenge – locating tiny, elusive targets – becomes a breeze. From its state-of-the-art LED screen, user-friendly settings, and an interface that's a dream, it's clear: this isn't just another accessory. It's a must-have. With the AccuPoint, expect to dig less and discover more, every single time.
Nokta Detectors: The Undisputed Titan of Metal Detecting
It's evident that Nokta Detectors is not just making waves but tsunamis in the metal detecting world. With a flurry of recent product announcements that kept enthusiasts on their toes, they are unarguably establishing themselves as the dominant force in the industry. The anticipation surrounding the AccuPoint has been palpable ever since Nokta revealed its impending arrival over a year ago. And now, the waiting game is finally over, and the AccuPoint is here, much to the elation of the global metal detecting community.
But it's not just about groundbreaking products. The love and respect Nokta commands in the metal detecting community stem from more than just high-quality detectors. They are renowned for offering unparalleled backup service and support, a fact that was recently cemented when they clinched the award for the Best Customer Service of 2023 by The BIG Detecting Show. As we step into these exhilarating times, it's clear: with Nokta at the helm, the future of metal detecting is brighter than ever.
Final Thoughts
The Nokta AccuPoint Pinpointer isn't just a metal detecting accessory; it's an experience. Whether you're a seasoned detectorist or just starting out, this pinpointer promises efficiency like no other. Dive deeper, search wider, and find precisely with the best pinpointer in the market!