Nokta AccuPoint Pinpointer
R3,199
No Deposit. Only
R

1,600
on your next two paycheques. Interest free.
Learn More.
Or split into 4x
interest-free
payments
Learn more



No interest, no fees,
4x instalments over 6 weeks
How it works
Payflex lets you get what you need now, but pay for it over four interest-free instalments. You pay 25% upfront, then three payments of 25% over the following six weeks.
Shop Online
and fill your cart
Choose Payflex at checkout
Get approved and
pay 25% today
with your debit
or credit card
Pay the remainder
over 6-weeks.
No interest.
No fees.
The Nokta AccuPoint Pinpointer is a game-changer in metal detecting. Spend less time searching and turn minutes into seconds with its accurate pinpointing, groundbreaking iron discrimination, customisable settings, and advanced LED colour screen, making it both easy and effective to use. It's a must-have metal detecting accessory that combines Nokta's reliability with groundbreaking features.
In stock
Fast delivery directly to your door!
Satisfaction Guaranteed
After Sales Service
Secure Payments
Nokta AccuPoint Pinpointer
Experience the latest in metal detecting with the Nokta AccuPoint Pinpointer. This pinpointer boasts the most advanced features packed in a sleek and durable design. Manufactured by the trusted Nokta Detectors, it ensures that treasure hunters not only find their target with unrivalled precision but also enjoy the best customer support in the industry. Whether you're a beach detectorist, a relic hunter, or just starting your detecting journey, the AccuPoint empowers you with unparalleled precision and confidence. With its unique Bluetooth connectivity, it seamlessly syncs with any Bluetooth-enabled Nokta metal detectors.
FEATURES
Bluetooth/Wireless Connectivity: Hear the pinpointer's signals directly through Nokta's Bluetooth headphones or any low-latency Bluetooth® headphones, ensuring clarity even in noisy environments.
Compatible with these Nokta Bluetooth enabled Metal Detectors:
Nokta Simplex BT Metal Detector
Nokta Simplex ULTRA Metal Detector
Nokta Legend SMF Metal Detector
Nokta Score Metal Detector
Advanced Discrimination Tones: Offers three precise modes for efficient treasure hunting:
1 Tone: Indicates Non-Ferrous/Non-Iron (The good targets!)
2 Tone: Indicates both Ferrous/Iron and Non-Ferrous/Non-Iron
Iron Off: Avoids Ferrous detections entirely
Vivid Colour LCD Screen: The high-resolution colour LCD screen provides all the essential information right before your eyes. Our user-friendly interface ensures effortless access to settings and adjustments, making pinpointing targets hassle-free.
Progressive Audio Feedback: As you get closer to the target, the intensity of the tones increases, ensuring precise pinpointing.
Vibration Mode: Besides the audio, the AccuPoint can alert users through vibrations, offering another dimension to target detection.
Integrated Detector Mute: When activated, it automatically mutes your metal detector, ensuring that you hear only the pinpointer's feedback, eliminating potential distractions.
Built-in Depth Ruler: Incorporated ruler on the underside provides a handy reference for target depth, letting you measure the depth of your finds with ease.
Volume Control: Adjust the sound as low or high.
Adjustable Backlight: Perfect for varying lighting conditions.
Frequency Shift: Prevents interference with other detectors nearby.
Lost Alarm: After 5 minutes of inactivity, the AccuPoint emits an alarm and the LED starts flashing, ensuring you never lose your tool.
LED Flashlight: Ideal for night hunts and underwater use.
Replaceable Tip Protector: Safeguards the tip from damage or wear.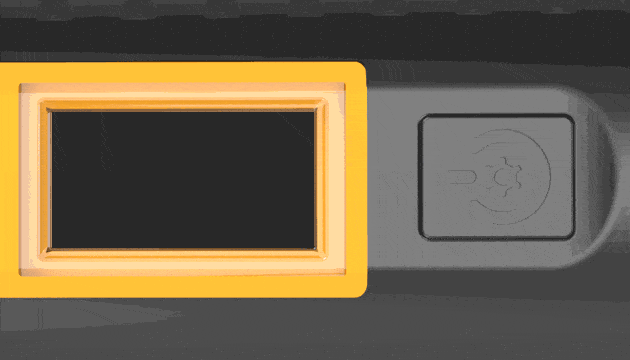 SPECIFICATIONS
Colour: Vibrant Yellow with Black accents
Waterproofing: IP68 – robust up to a depth of 3 meters
Battery: 1650mAh Lithium Polymer Rechargeable. Provides up to 25 hours of use on a single charge
Display: High-resolution Color LCD Screen
Connectivity: Bluetooth technology for universal compatibility
Sensitivity Settings: 9 adjustable levels for detailed target detection
Detection Tip: 9cm
Dimensions: 24.7cm x 3.8cm x 3.8cm
Weight: 217gr
Working Temperature: -20°C/+50°C
Warranty: 2 years
PACKAGE CONTENT
1 x Nokta AccuPOINT Pointer
2 x Spare Tip Protector
1 x Belt Holster
1 x USB Type-C Charging Cable
1 x Security Lanyard
Why Nokta AccuPoint is a Game-Changer in Metal Detecting
Every metal detecting enthusiast knows the challenge of locating those elusive small targets in the depths of a dug hole. Enter the Nokta AccuPoint Pinpointer. More than just an accessory, it's an essential tool that turns minutes of searching into mere seconds. Its groundbreaking LED colour screen, customizable settings, and intuitive interface elevate the pinpointing game, ensuring you dig less and discover more. With its reputation for reliability, Nokta once again delivers a product that's been eagerly anticipated. Don't miss out – make every metal detecting session a joy with the AccuPoint Pinpointer.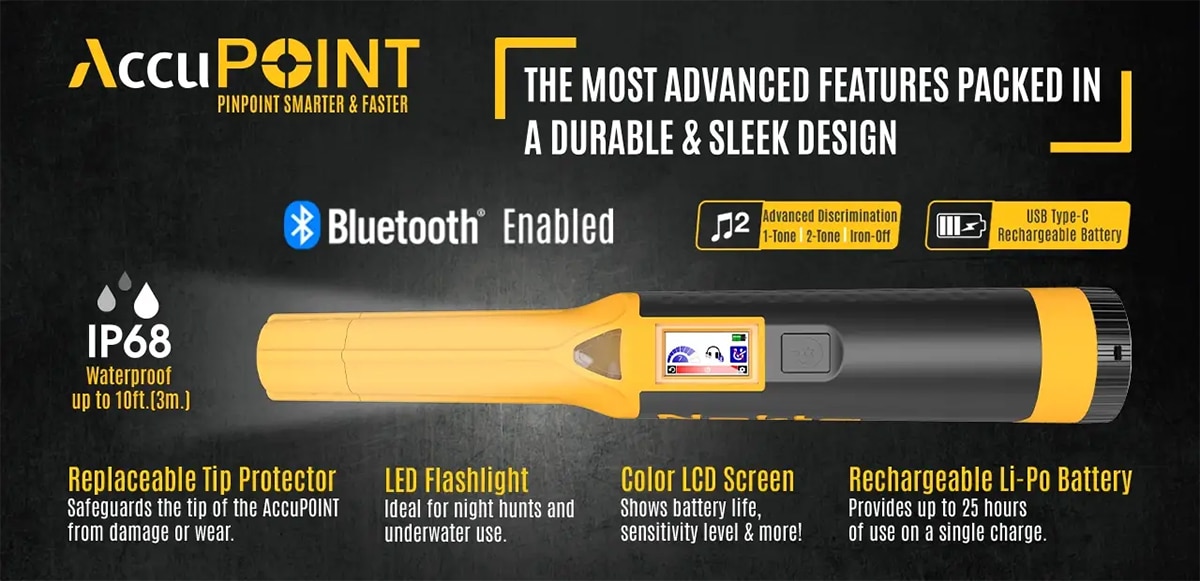 You may also like…