Armas NAM-19E Alcohol Breathalyser
R8,499
No Deposit. Only
R

4,250
on your next two paycheques. Interest free.
Learn More.
Or split into 4x
interest-free
payments
Learn more



No interest, no fees,
4x instalments over 6 weeks
How it works
Payflex lets you get what you need now, but pay for it over four interest-free instalments. You pay 25% upfront, then three payments of 25% over the following six weeks.
Shop Online
and fill your cart
Choose Payflex at checkout
Get approved and
pay 25% today
with your debit
or credit card
Pay the remainder
over 6-weeks.
No interest.
No fees.
The Armas NAM-19E Alcohol Breathalyser utilizes next-gen electrochemical fuel cell technology, ensuring precise and rapid alcohol detection suitable for various environments like workplaces, bars, and sports field entrances.
In stock
Fast delivery directly to your door!
Satisfaction Guaranteed
After Sales Service
Secure Payments
Armas NAM-19E Alcohol Breathalyser
Harnessing next-gen technology, the Armas NAM-19E Alcohol Breathalyser provides precise and reliable alcohol detection. This state-of-the-art device, ergonomically designed for both users and administrators, ensures that the global fight against drunk driving and maintaining workplace sobriety gets an advanced tool. Whether it's for official purposes at workplaces, bars, or sports field entrances, or for personal use, the device promises rapid and accurate measurements every time. Beyond its core functionality, its sleek and portable design ensures ease of use, making it the preferred choice for traffic officials, employers, and event organizers.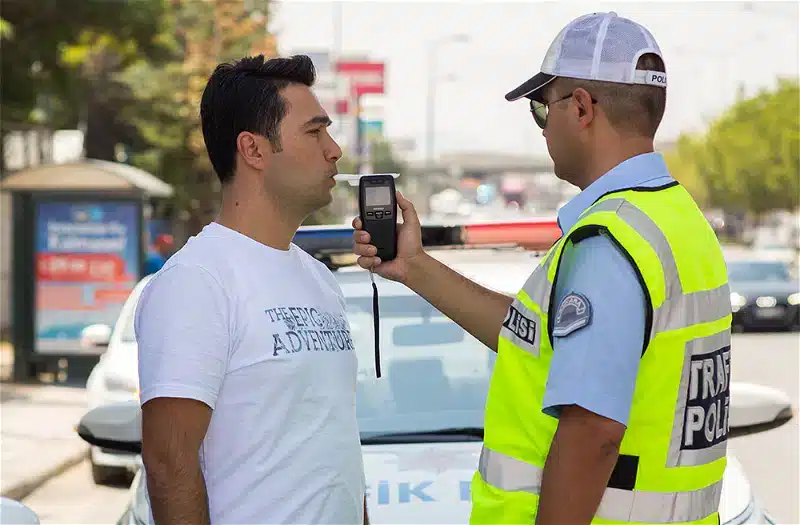 FEATURES
Advanced Electrochemical Sensor: Leverages high precision fuel cell technology for unparalleled accuracy.
Contactless Testing: Facilitates swift measurements without direct contact, making operations smooth and hygienic.
Triple Result Indication: Distinguishes presence of alcohol with indicators – "Alcohol", "No Alcohol", and "Critical Level".
Multifunctional Modes: Features automatic, manual, and passive measurement methods to cater to diverse testing scenarios.
Economical Usage: Designed with a passive mouthpiece cup, eliminating the need for constant replacements and thereby reducing operational costs.
Intuitive Interface: Boasts of a one-button operation with an additional two menu navigation keys for effortless usability.
SPECIFICATIONS
Sensor: Electrochemical Fuel Cell
Mouthpiece: Passive Cup Design
Operating Temperature: -10°C to +50°C
Storage Temperature: -20°C to +60°C
Measurement Range: 0.00 – 6.00‰ BAC
Result Display Time: Maximum of 15 seconds with alcohol presence, immediate if absent.
Battery: Requires 3x AAA Standard Alkaline Batteries (Not supplied)
Certifications: EN60068-2-6 vibration, EN60068-2-27 shock, CE Certified
Data Management: Compatibility with NAM-DATAPro software and optional PC connection cable
Languages: English, Turkish, Spanish, Russian, Croatian (others available upon request)
PACKAGE INCLUDES
1 x Armas NAM-19E Alcohol Breathalyser
1 x Armas NAM-19E User Manual
1 x Armas NAM-P Passive Cup
The NAM-19E Alcohol Breathalyser ensures consistent and reliable results, making it a top choice for safety-conscious environments.