Armas NAM-19S Alcohol Breathalyser
R13,999
No Deposit. Only
R

7,000
on your next two paycheques. Interest free.
Learn More.
Or split into 4x
interest-free
payments
Learn more



No interest, no fees,
4x instalments over 6 weeks
How it works
Payflex lets you get what you need now, but pay for it over four interest-free instalments. You pay 25% upfront, then three payments of 25% over the following six weeks.
Shop Online
and fill your cart
Choose Payflex at checkout
Get approved and
pay 25% today
with your debit
or credit card
Pay the remainder
over 6-weeks.
No interest.
No fees.
Armas NAM-19S Alcohol Breathalyser: Superior design with a new generation electrochemical sensor. Evidence-class certification for utmost accuracy and reliability.
In stock
Fast delivery directly to your door!
Satisfaction Guaranteed
After Sales Service
Secure Payments
Armas NAM-19S Alcohol Breathalyser
Experience utmost reliability with the Armas NAM-19S Alcohol Breathalyser, featuring a specially designed new generation electrochemical sensor. As an evidence-class certified device, it offers high accuracy and sensitivity in measurements, establishing itself as a fundamental tool for areas requiring utmost safety—roadside checks, security controls by law enforcement, workplaces, transportation, and more.
Distinguishing itself from the NAM-19, the NAM-19S does not feature an alphanumeric keypad for data entry but still guarantees reliable results in line with international standards, affirming its position as an evidence class alcohol meter.
Benefit from versatile measurement capabilities: Automatic/Active, Manual, Passive, and Measurement Rejection modes. It caters to various scenarios, from automatic to manual measurements, even in situations with inadequate breath samples. Its passive measurement mode also allows ambient readings.
Its compact design, coupled with a user-friendly 3-key shortcut and a sun-readable transreflective TFT screen, ensures ease of operation. Navigate through its multi-lingual menu and receive intuitive warnings and error messages.
All measurements, along with date-time information, are recorded and can be reviewed, displayed, or printed. Easily transfer data to a computer using the NAM-DATAPro software. The unique hygienic mouthpiece, suitable for both left and right-handed users, ensures safety by directing breath away and preventing saliva or food residue transfer.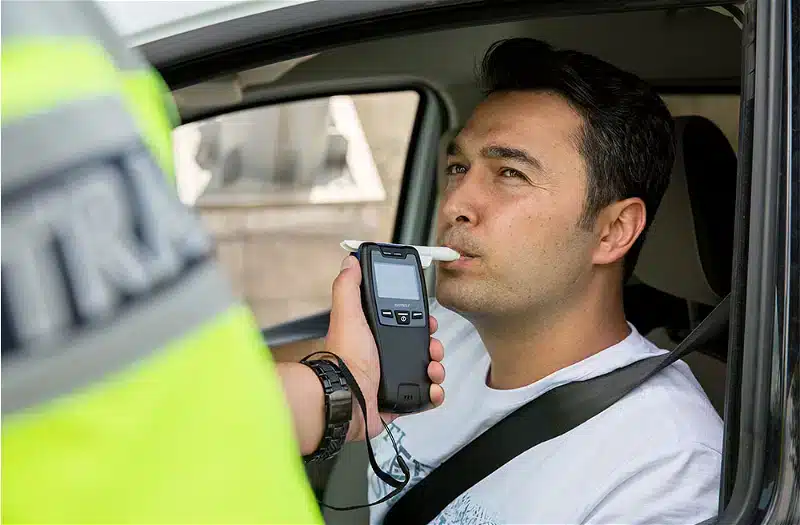 FEATURES
Evidence Class Measurement Accuracy
Adaptable Measurement Modes for Various Conditions
Intuitive, User-Friendly Design
Comprehensive Data Management: Input, Storage, and High Memory Capacity
Hygienic Disposable Mouthpiece and Optional Passive Measurement for Non-Contact Use
SPECIFICATIONS
Sensor: New Generation Electrochemical Fuel Cell with High Precision
Mouthpiece: Disposable, Ensuring Hygiene in Production and Packaging
Measurement Mode: Auto/Manual/Passive/Rejection
Measurement Range: 0.00–6.00‰ BAC
Preparation Time: Efficient and Swift
Displaying Result: Quick and Accurate Display
Operating Temperature: -10°C to +50°C
Storage Temperature: -20°C to +60°C
Minimum Volume: min. 1.2L (changeable)
Blowing Time: Up to 6 sec.
Measurement Unit: Promille (w/v) as standard. Customizable to global units.
Automatic shutdown time: Adjustable
Energy Conservation Mode: Automatic light reduction; Standby mode
Screen: Sun-visible transreflective type color TFT Display
Memory: 7,500 standard, up to 100,000 with data input
GPS: Optional
Calibration: Dry gas and/or vapor
Battery: Standard 3.7V Lithium-ion
Battery Charge: Wired, with an optional desk-type charger
Charging Adapter: 220V AC; Optional car plug (12V DC or 24V DC)
Protection Case: Optional Silicone
Language Options: Multiple languages including Turkish, English, Spanish, Russian, Croatian
Data transfer/archive: NAM-DATAPro software; Optional PC connection cable
Certificates: DOT-NHTSA, EN 60068-2-6, EN60068-2-27, CE certified
Carrying case: Compact (for models without printer)
PACKAGE INCLUDES
1 x Armas NAM-19S Alcohol Breathalyser
1 x Armas NAM-19S Protective Carry Case
1 x Armas NAM-19S 220v AC Charger
1 x Armas NAM-19S User Manual
5 x Armas NAM-M Mouthpieces (Individually sealed)