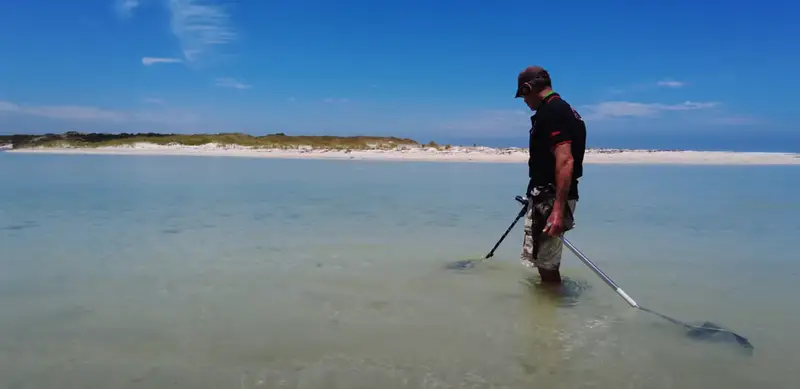 Are you shopping around for the best beach metal detector? Are you intimidated by the many options? Welcome to Metal Detectors South Africa | MDSA, where we stock the widest range of metal detectors. This blog was put together to help you make the right choice of beach metal detector. We'll talk about the XP Deus 2 Fast Multi-Frequency, Nokta Makro Legend Simultaneous Multi-Frequency, Nokta Makro Simplex+ and Garrett AXIOM Pulse Induction, our Best Beach Metal Detectors of 2023.
WHAT FEATURES SHOULD YOU LOOK AT WHEN SHOPPING AROUND FOR A BEACH DETECTOR?
To acquire the best possible results when metal detecting on the beach, there are many features and specifications to take into consideration. To ensure you purchase the best detector for your money, we've outlined the questions you should ask yourself while looking for a beach metal detector below.
Is The Detector Waterproof?

When metal detecting on the beach, a waterproof detector is crucial. Metal detectors that are waterproof are much better safeguarded from the sand and corrosive seawater. If a stray wave knocks you down sometimes, these detectors can handle the situation.
Does The Detector have Wireless Audio?

The main advantage of wireless audio is Freedom . When going from finding your treasures to actually digging them up, you want everything to go smoothly. The very last thing you want to happen is to set down your detector and then feel your headphones being pulled down with it.
Will The Detector Be Able To Handle The Salt Content In The Water and Wet Sand?

The best beach metal detector must also be able to disregard the salt content of the wet sand and ocean. Metal detector performance is affected by salt, which normally reduces the depth of detection. The following two technologies should be considered to prevent this from happening:
Simultaneous Multi-Frequency Technology – simultaneous multi-frequency metal detector emits many frequencies from the coil at once. According to the theory, any target missed at one particular frequency may be picked up at a second or third frequency. This increases the likelihood that you will discover the target.
Pulse Induction Technology – the theory behind pulse induction technology is the electromagnetic induction of metal objects achieved by the emission of powerful electrical pulses by a transmitting coil. These pulses will produce magnetic fields that will magnetize any metal objects that is within reasonable depth.
Having these features eliminates the need to re-tune your detector, which makes handling the salt content simple.
Will The Detector Be Able to Handle The Change from Wet Sand to Dry Sand To Underwater (Gradient Handling)?

The best metal detectors will have a great salt gradient handling feature. This feature makes it possible to seamlessly detector from dry sand to wet sand to underwater whilst still providing excellent depth.
MDSA's Picks For The Best Beach Metal Detectors Of 2023
The XP Deus II Metal Detector is the last but most certainly not the least. This detector is primarily intended for our advanced and experienced detectorists. comes with a hefty price tag on the market, but the benefits are worthwhile.
By developing the first wireless, multi-frequency metal detector with distinct features and performance, XP is pushing the envelope. The XP proprietary radio protocol system is used by the coil, remote control, headphones, and pinpointer to connect with one another wirelessly and without latency. As a result, the search coil's target signals are swiftly and accurately transferred to the headphones, providing the DEUS II its unmatched speed and accuracy. Thanks to FMF (Fast Multi-Frequency) technology, the DEUS II operates remarkably well in every terrain and circumstances, both on land and in the water.
Select one of the 12 programs that best fits the terrain you are detecting from the list. Alternate between the 49 single frequencies, which range in frequency from 4 to 45 kHz, or the simultaneous Fast Multi-Frequency. 12 of your favorite custom applications can be saved.
Due to the advanced settings, no wonder the Deus II is one of the top 3 beach metal detectors of 2022!
Key Features:
Simultaneous Fast Multi-Frequency
Multi-Frequencies | 4, 7, 15, 21, 28, 35, 45 kHz
49 Single frequencies | 4 – 45 kHz
Waterproof to 20m
Shockproof
Fully wireless (No wires connecting Controller to Coil)
Removeable DEUS II Remote Controller
Up to 30H battery life
Built-in rechargeable battery
12 User programs to save your custom configurations
Firmware updateable
WS6 Wireless Headphones/Backphones – Wraps around back of head and Doubles up as a remote controller
Detect on all terrains | Beach, Water, Field, Park, Gold Field
In-Depth Target ID
Enhanced Iron Discrimination Capability
Comprehensive and precise discrimination range
Frequency shift + automatic frequency scan option for EMI noise cancel
Ground Tracking or Grabbing
Multiple dynamic audio options | PWM, SQUARE, and more to come
4 Bands Equalizer configurable on each audio output
Wireless Audio
Control the headphone volume levels via the remote
Headphones auto power On and Off
Lightweight | 800g
Ergonomic | S-Telescopic Stem
Adjustable stem/shaft
Optional: Bone Conduction Headphones for diving to 20m
5 year warranty
The Nokta Makro Legend, which is for our intermediate to advanced detectorists, is the second option.
The Nokta Makro Legend Metal Detector changed for the game for multi-frequency detectors, coming in with frequencies ranging from 4 kHz to 40 kHz. The low frequencies are ideal for beach detectorists as they can find those treasures hidden deep within the sand.
As the detector is waterproof (up to 3 meters), it makes it equally good in the water as it is on land.
The new FerroCheck feature makes distinguishing between modern trash like bottle caps and good targets easy.
Key Features:
SMF – Simultaneous Multi-Frequency
Simultaneous Multi-Frequency & 5 Single Frequencies (4/10/15/20/40 kHz)
FerroCheck – Detect Less Modern Trash!
4 Search Modes – Park. Field. Beach. Goldfield.
Built-in Clock & Time Tracking
Bluetooth aptX™ Low Latency Headphones
IP68 – Waterproof Up To 3m / 10ft
Shaft retracts down to 63cm (25″) for easy transport and underwater use
Carbon Fiber Lower Shaft
Warranty: 3 Years
The Nokta Makto Simplex+ comes first. This is a basic detector that can be used by a rookie to expert detectorist.
This metal detector entered the metal detecting market with a bang because of its high-end features at entry-level pricing! Since the Simplex+'s introduction, it has continued to rank as Metal Detector South Africa's | MDSA best-selling detector.
Metal detectors made by Nokta Makro are exceptionally popular in the USA, Europe, and most recently South Africa!
If you are looking for the best equipment for beach detecting, we highly recommend pairing the Simplex with the PulseDive 2-in-1 Pinpointer and the SP24 Elliptical coil.
Key Features:
Fully waterproof, submersible to 3m
Wireless audio (Wireless Headphones not included. The Simplex+ WHP has Wireless Headphones included)
Hit targets at extreme depth
5 x Search modes
Automatic & Manual ground balancing
Notch discrimination (Manual & Auto)
Frequency shift (5 Steps)
6 x Sensitivity Levels
Pinpoint function
LED flashlight
Vibration feedback
Online firmware updates
Built-in rechargeable battery
Retractable shaft
The Garrett Axiom Gold Detector has changed the game for gold detectors worldwide.
The Axiom Gold Detector is the most powerful and advanced gold detector Garrett has ever produced. This gold detector features the Garett Pulse Induction search technology (aka PI technology) for absolute performance on gold of all sizes. Making the Axiom the ideal gold detector for our gold prospectors all over Zambia and Zimbabwe.
This detector comes equipped with the Garrett MS-2 wired headphones, which provide high-quality audio, allowing you to hear and detect the tiniest gold nuggets.
KEY FEATURES:
Ultra-Pulse Technology / Pulse Induction / PI: Advanced pulse timings provide enhanced sensitivity and complete versatility in the most extreme mineralized soils and saltwater. Choose from four settings, each ideally engineered for finding all types of gold, from larger nuggets to sub-gram pickers.
Terra-Scan: Axiom's advanced system provides an independent dual-channel ground balance that covers the full range of mineralization, from heavily mineralized magnetic ground to saltwater and everything in between.
Iron Check: Audibly identify iron targets with the Axiom using a DD search coil.
Two Audio Types: Choose from PWM Audio or VCO Audio options.
Extreme Battery Life: With about 16 hours on a full charge, Axiom's built-in, high-capacity Lithium Ion battery provides twice the battery life offered by some prospecting detectors.
Extend Your Time In The Field: Axiom's booster pack holds 8 AA batteries, either standard or rechargeable. Use this pack to get another 6 hours of battery life in remote areas
Where can you buy the best beach metal detectors of 2023?
We know there are many hidden treasures between the sand and the ocean below, and with the right tools, you are sure to find them.
Take a look at our specialist metal detecting shop, Metal Detectors South Africa | MDSA to learn more about the metal detecting hobby or if you need expert advice. Be sure to visit our YouTube channel to see these detectors in action and to see our incredible finds.