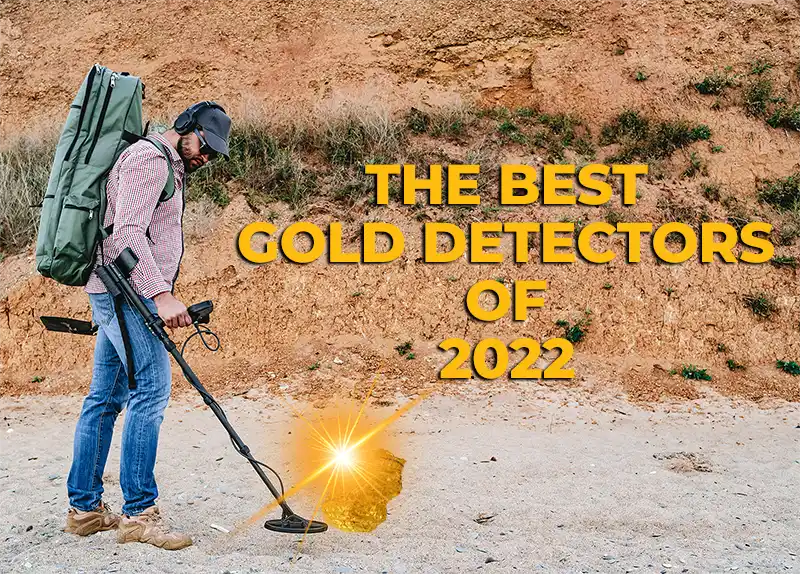 At Metal Detectors South Africa | MDSA, we know many people desire to experience their own gold rush, but in order to do so, you must have the proper equipment. In this article, we are going to go through the best gold detectors of 2022, so you know which one will suit you and your needs. All metal detectors can find gold coins and jewelry, but a specialised detector is required to find gold nuggets and gold belts. With all possibilities and a wide range of pricing, looking for the finest gold detectors for gold online may quickly become overwhelming.
There are a few basic types of gold detectors, but they all work on the same basic premise: an electric charge is used to generate a magnetised wave that is directed at the ground. If this wave makes contact with metal and gold, it will start to vibrate in a particular way that the device can detect it. A moving dial or a set of earphones alerts the detectorist when the sensor detects metal.
The greatest metal detectors can even identify gold in challenging soils like mineralized black sand since they are sensitive enough to separate it from ferrous metals and frequently fully submersible. Some detectors also have other features, such as a gold-probability register that tells you whether a nugget is more likely to be gold or just a piece of lead. With the greatest gold metal detectors, you can sniff out a couple of doubloons regardless of your budget.
Let's get started and talk about the best gold detectors of 2022, which are available on our online store Metal Detectors South Africa | MDSA.
In Zimbabwe and Zambia, where gold prospectors are discovering gold nuggets, the well-liked Nokta Makro Gold Kruzer Gold Detector is transforming lives. The 10″x5.5″ and 7.5″x4″ Waterproof DD Search Coils are two of the coils that come with the Gold Kruzer. The Gold Kruzer may be used all through the wet gold season because it is waterproof to a depth of -3m.
The Gold Kruzer, which operates at 61kHz high frequency, will revive hunted-out gold fields by providing the finest sensitivity to the smallest nuggets. Furthermore, the Gold Kruzer is the most advanced gold and tiny jewelry metal detector on the market, not just because of its outstanding performance in hot rocks and severe ground conditions.
The Gold Kruzer is often referred to as the GF 2000's big brother, and you'll understand why in the next section.
Key Features:
Warranty: 2 Year Limited.
Total Weight: 3 lbs (1.4 kgs).
Operating Frequency: 61kHz.
Search Modes: 4 (Gen / Fast / Boost / Micro).
IP68 Rating: Up to 16.4′ (5 meters) Waterproof!
Battery: 3700mAh Lithium Polymer; Offers up to 19 Hours of Operation.
Online Firmware Updates: Stay Up-to-Date with Firmware Updates (via USB on PC) and Get the Most Out of your Detector.
E.U.D (Extra Underground Depth) Function: Detect Certain Metals Masked by Ground Conditions and/or at Fringe Depths.
2.4 GHz Wireless Headphones – Green Edition.
Before the Gold Finder 2000 was launched in 2021, there was significant demand for a simpler, easier-to-understand gold detector. Thus, Nokta Makro did just that and offered us the Gold Finder 2000 Gold Detector, which is now loved by artisanal gold prospectors in Zimbabwe and Zambia.
The Nokta Makro Gold Finder 2000 Gold Detector was made specifically for Gold Detecting in Zimbabwe, Zambia, Tanzania, and the rest of Africa. This detector offers gold prospectors an affordable, easy-to-use, rugged, and effective approach to gold detecting.
No need to get frustrated with ground balancing or navigating through complex settings. The Gold Finder 2000 offers a turn-on & go operation making it extremely easy to use and saving you valuable detecting time without missing any gold.
Need to detect in the rain? Not a problem with the Nokta Gold Finder 2000 Gold Detector. The GF2000 is fully rainproof.
The GF2000 offers excellent value and performance. Included as part of the package are two gold Search Coils, high-quality Koss Headphones, a Wireless Speaker, and more!
Key Features:
Fully Automatic Turn-on & Go.
High Performance & Unmatched Depth.
Advanced Discrimination – Just detect those wanted gold targets and ignore iron.
2.4 GHz Wireless Speaker – Ideal for group hunts as well as for training sessions.
LCD Backlight & LED Flashlight – An excellent feature for those night hunts!
Built-in Lipo Battery – Easily charge it with a USB charger or power bank.
Retractable Shaft – The shaft retracts down to 76cm (30″). Great for easy transport and storage.
Online Firmware Updates – Stay up-to-date with firmware updates (via USB on PC) and get the most out of your detector.
Rainproof.
61kHz High Frequency.
Slideable armrest.
The Garrett Goldmaster 24k is a high-frequency induction-balance gold nugget detector that is based on the well-known White's Goldmaster. The GM24k has a coil voltage that is 54% higher than that of the previous White's GMT model, making it more sensitive to small nuggets like those found in KweKwe, Zimbabwe, and Zambia.
Gold prospectors with experience know that improving sensitivity is not the only way to raise the likelihood of success. The biggest issue in gold mining is frequently getting a detector to track and cancel the ground. Known as "XGB," the Goldmaster 24k has a special ground tracking mechanism (Xtreme Ground Balance). Multiple ground points are used to ensure stable operation.
Additionally, the GM24k has Iron/Hot-Rock cancellation in both audio modes, extending the ground range even further for stealthy operation on the trickiest ground.
Key Features:
SUPER SENSITIVE GOLD DETECTOR WITH 48 kHz POWER = FIND MORE GOLD!
Two Audio Modes: Choose from a 2-tone "Beep" Mode to help distinguish target types or the Standard VCO "Zip".Mode, where audio pitch and volume rise as signal strength increases.
XGB Ground Balance System: The Auto tracking system allows the Goldmaster 24k to detect with precision in various ground conditions with more stable operation and less ground noise.
Trac Lock: To lock the current ground balance setting.
Adjustable Iron Cancel: Feature for hot rocks, iron trash.
Backlight: To view settings at night or in low light.
Volume Control: Fully adjustable, plus Boost options.
Threshold Adjustment: Adjust to the level that fits your style of hunting
Frequency Shift: Use to reduce electromagnetic interference.
Sensitivity Control: Levels adjustable from 0 to 10.
Two Audio Modes: Choose from a 2-tone "Beep" Mode to help distinguish target types or the Standard VCO "Zip" Mode, where audio pitch and volume rise as signal strength increases.
Variable Self Adjusting Threshold: This allows users to adjust the threshold recovery speed to help reduce the effects of changing ground mineralization.
Iron And Hot Rock Elimination.
Rainproof Detector With 6 X 10″ Waterproof Search Coil.
The Nokta Makro Jeohunter Gold Detector makes it onto our list of best gold detectors of 2022 as it is being used extensively in Zimbabwe and Zambia to help artisanal gold miners and gold prospectors to identify gold reefs at great depth. You can see your finds as you search for them on the display of the Jeohunter 3D Dual System. You can instantly analyze the shape, depth, size, and type of the object you are detecting thanks to the full-colour, 3D image. The Jeohunter has a straightforward menu that makes it easy to quickly find large or small targets in challenging ground at great depths. The Nokta Makro Jeohunter 3D Dual System is the instrument you need to find what has been undiscovered, whether you are an expert or novice treasure hunter.
Key Features:
Warranty: 2 Year Limited.
Frequency: 12 – 13 kHz.
Battery Life: 4 – 8 Hours.
Battery: Lithium Polymer.
Ground Balance: Manual.
Total Weight: 5 lbs – 18 lbs (2.4 – 8.45 kgs) (Coil Dependent).
Metal Discrimination: Non Ferrous / Ferrous / Gold + Steel + Cavity.
Discrimination: Offers Non-Ferrous, Ferrous, and Steel Discrimination.
Selecting the right gold detectors for your needs will make the difference between finding the gold or not. If you need expert advice on which gold detector to buy, speak to our team of gold detector experts at Metal Detectors South Africa.
Now that you know the best gold detectors of 2022, where can you buy them? Take a look at the full range of gold detectors for sale in Zimbabwe, Zambia and South Africa at Metal Detectors South Africa | MDSA. In addition, MDSA offers a full range of gold prospecting equipment.
Good luck and happy gold detecting!